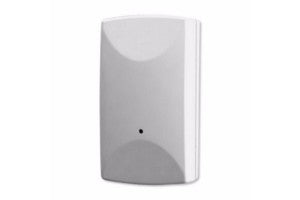 Ecolink® Z-Wave® Garage Door Tilt Sensor
The Ecolink Z-Wave Garage Door Tilt Sensor enhances home security and provides peace of mind by allowing the garage door to be monitored from anywhere. Installation only takes a few minutes - just add the Tilt Sensor to the inside of an overhead garage door using mounting screws or double sided tape. The Tilt Sensor can be used with Automations to act as a trigger when the door is opened or closed (or in a certain state for a defined length of time) to send an alert to your smartphone or trigger another action.
Communicates with Z-Wave gateway and smartphone app to indicate garage door position is open or closed
Features Gold Plated tilt components for industry leading reliability
Easy installation with included flush mount bracket
Five year battery life (CR123)
Auxiliary contacts available for external triggers
*Requires a Trane/American Standard XL824/850/1050 smart thermostat or an alternate Z-Wave Bridge in order to communicate with your Home app.
**Requires a paid Subscription. View the Nexia subscription plans here, American Standard Home subscription plans here, and Trane Home subscription plans here.
Tech Specs:
Model Number:

 

TILTZWAVE2.5-ECO
Unit Weight:

 

3.3 oz
Warranty:

 

1 year